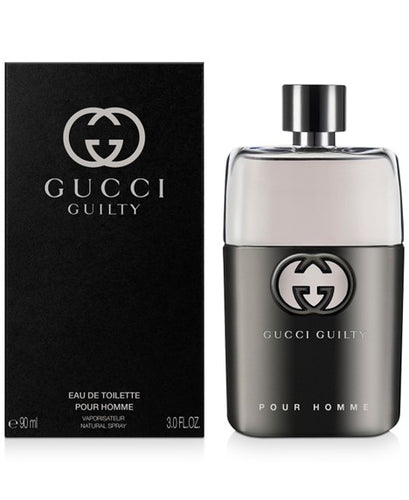 A modern declaration of self-expression and fearlessness burns brightly in the new powerful statement #ForeverGuilty. An Aromatic Fougère, Gucci Guilty men's eau de toilette is a member of the first fragrance family invented, now worn by a new generation of Gucci scent lovers. Hedonistic and decadent, the scent opens with the piquant spice of Pink Pepper, a fragrance ingredient connected to intense flavor mixed with invigorating Italian Lemon. At the heart, the non-conformist ideals of #ForeverGuilty coincide with non-conventional fragrance-making using Orange Blossom Absolute, a scent traditionally used in female fragrances and known throughout history as a symbol of romance and innocence. White floral with honey tones enriches the scent's other heart notes, Neroli and French Lavender—the very flower the original playboy Casanova used to fragrance his love letters. Completing this modern expression of sensuality, mystery and intrigue are conjected in Patchouli which develops with hints of leather, green, woodiness and incense-like qualities. The dry down is intensified with the masculine richness of Cedar Wood.
Top note: invigorating Italian lemon and mandarin
Middle note: rushed green leaves, fresh lavender
Bottom note: a defiant punch of pink pepper.
Mood: Fresh & Understated.