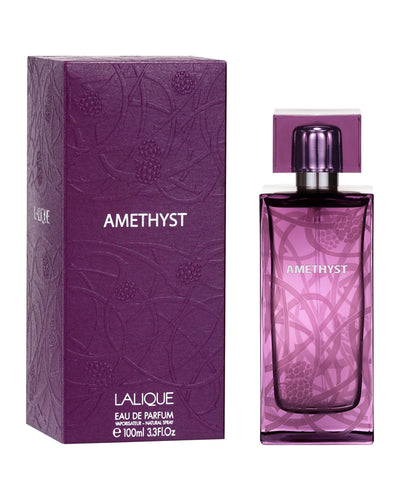 Amethyst, the false innocence of a fresh and luminous composition wrapped in a musky sensuality. The perfumer created this multifaceted fragrance combining the strength of wild nature with the sophistication of flowers. A fruity and daring top note: charming blackberry blended with the crunchy and acidulous character of the black currants.
The blackberry bush leaves bring a vegetal freshness, rounded by the velvety softness of raspberry. The top note's naturalness lingers thanks to a surprising floral bouquet. The wild rose lights up the lily and ylang-ylang, suave and voluptuous.

The musks' smoothness unveils an elegant femininity. Intense and vibrant, it is enriched with the depth of sensual woods and the refinement of vanilla by a blackberry bush. This fruity, floral, and musky fragrance is a gourmet composition of blackberry, black currants, and raspberry notes over a floral heart of lilies, ylang-ylang, eglantine rose, and purple peony. On the dry down, musks, wood, and suave vanilla give sensuality.